Welcome to UptonArt.net
posted June 2nd, 2013 in Trip reports
This is a delayed trip report, by almost a month apparently… I hadn't been doing much hiking for a couple months and so I forgot to come back and add more posts. I've actually been out the John Wayne Trail a few times, both on foot and by bike. It runs along an old railroad grade that has been converted to a hiking/biking(/horse riding, I think) trail that starts across near the Rattlesnake Lake area. Technically, it only starts there in the sense of that's where the name changes; I think it connects to the Snoqualmie Valley Trail or some other separately maintained biking trail.
The first two times I visited it, I walked in with the intent of visiting Cedar Butte, which is accessible by a trail that wanders off through the woods from the main road. The trailhead is poorly marked — and as we have seen multiple times, I'm good at missing trails that leave a main road — so I completely failed to find it the first time. I double-checked the trail description and was able to find it on the second trip, but made the mistake of going on a foggy day in February and was rewarded with basically a flat gray view from the top: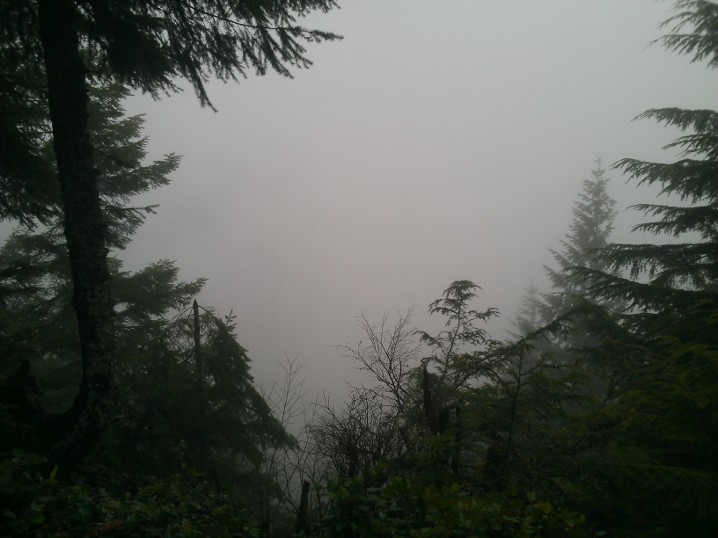 Since then, I made two trips up by bike. My actual goal is to ride back down from Snoqualmie Pass, which is a 25 mile descent, but so far the most I've managed is riding about 7 or 8 miles up from Rattlesnake Lake. There are numerous creek crossings and waterfalls, but unfortunately they're usually relatively deep and steep canyons that I don't know how I would get out of if I climbed down to the water (to say nothing of the fact that some of them are apparently part of the Seattle water supply and have big "stay away from the water" signs).
The most recent trip was also my first experiment with doing video, both real time and time lapse, of a trip. I haven't edited the real time portion of the ride going up, but here's a short clip of coming back down (turns out the ~50 minutes of recording on the way up mostly drained the battery):
No Comments

on John Wayne Trail
posted March 6th, 2013 in Trip reports
Last Sunday, the weather was surprisingly gorgeous in Redmond, so I figured I should take the opporunity to get out and hike a bit. After a bit of searching for a trail that seemed reasonable but that I had not yet hiked on, I settled on Dirty Harry's Balcony. The trip reports seemed to indicate that I might find some snow on the trail, but the parking lot was at a low enough elevation that I wasn't worried about wandering off onto hard packed snow in the process (like happened to me a month or so ago while looking for somewhere to pull over and take pictures).
So I followed WTA's instructions to follow the signs toward the WA fire training center, which would go under the freeway and in a quarter mile lead me to a signed gate that said something about closing at 4. Of course, it neglects to point out that there's another trail head right there, and that as a result there is a decent amount of parking; I had assumed it was just going to be one of the many places here where people end up just parking on the side of the road. That is, assuming I found the right place: the sign said 5:30 instead of 4 as the hard closing time. (Furthermore, it notes that there is no parking along the road for the next couple miles, while WTA seems to imply that you could park on the side of the road if you were okay with potentially getting stuck behind the gate.)
I started walking along the road, in search of the "small gravel road/unmarked trailhead" on the right in "about another 0.5 mile[s]." Instead, after something closer to a mile, I think, I found an unmarked trail heading off into the woods that could never have been considered a small gravel road: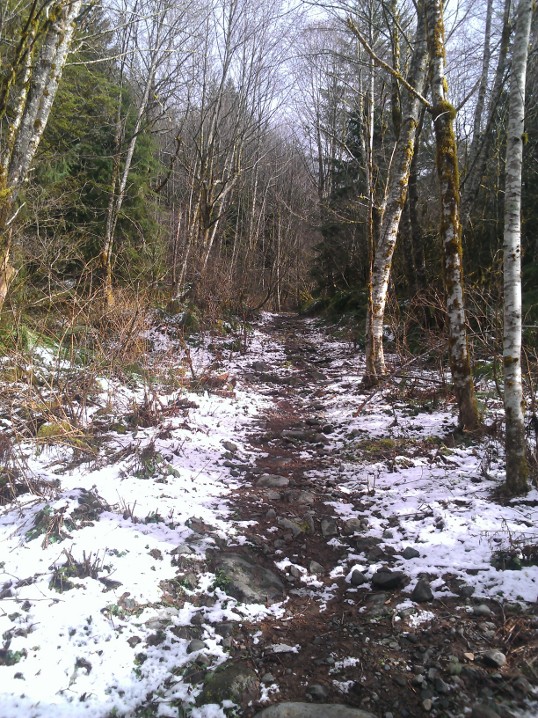 I started up this trail for a while but figured it couldn't possibly be right, so I exited and continued along the main road. Somewhere around a mile and a half in, I gave up on finding anything matching the description I wanted, but I did find a separate dirt maintenance road off to the left. Since it was a clearing in the trees, it was somewhat more inviting, and I could see some of the mountains like I had hoped to photograph. On the other hand, this disaster of a puddle was somewhat less inviting (picture looking back at the main road after I squeezed around the mess):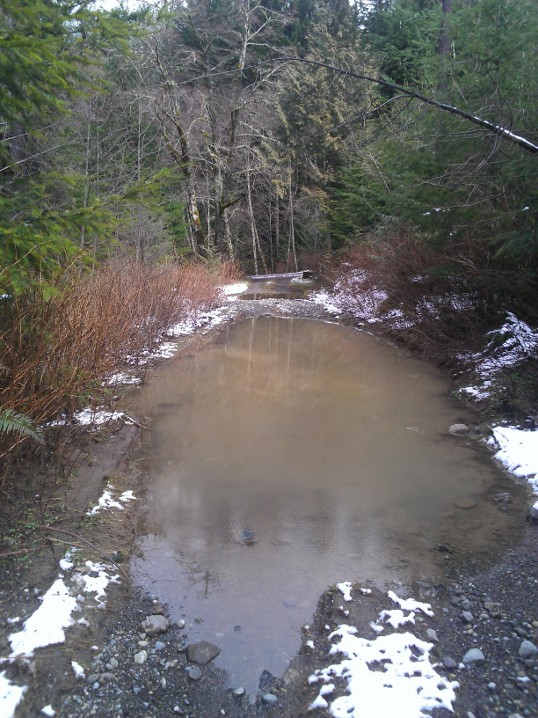 I followed this road to its end, in a clearing that would've had an excellent view had it not been for the fact the clearing existed only as an open space for power lines to cut through.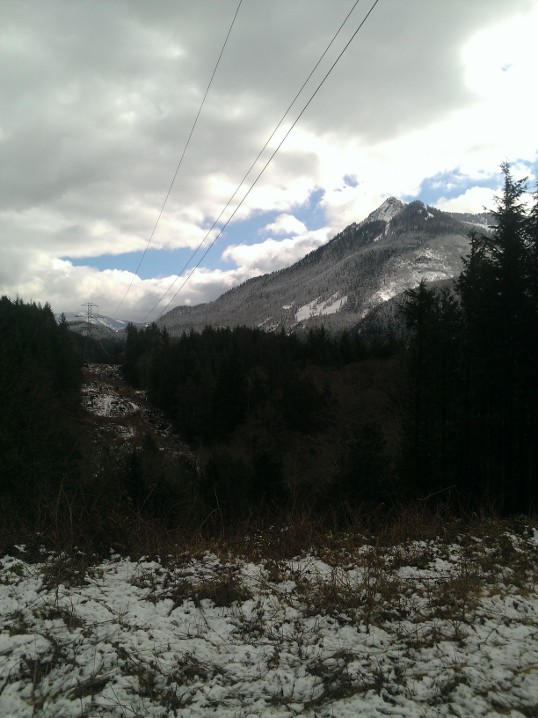 On the way back out, it spit a bit of snow on me, but as I got back to my first trailhead attempt it had let up so I hiked back in a bit to take a few pictures of a cascade I had seen. Of course, that was when it started pouring snow, so I didn't hang around long. I did meet a couple hiking in who also seemed to think it was the correct trail for Dirty Harry's Balcony. I still had enough energy to hike up and back, but I wasn't really equipped to deal with the snow so I bailed out. Maybe next time the weather is nice I will try again.
No Comments

on Dirty Harry's Balcony, sort of
posted February 28th, 2013 in Site News
I seem to have gotten everything back up and running. I feel like a blog post or two might be missing, depending on how recent a backup they were able to pull for me from the old host, but most of the stuff seems to be there. (What would be more interesting is to try to figure out what CDs I have purchased and had added to the database that might not be there… so far I only notice one.)
For anybody who missed the "in recovery mode" bit, my old web host (who I had threatened on multiple occasions to leave, had inertia not been so strong) crashed and was running in "fail-safe" mode. The options presented to us were to file a ticket asking for our account to be recreated on the new server, at which point we could recreate any databases and they would then port them over, or we could cancel our account. I was able to get a raw dump of the database from what they had on backups, but that form was of…debatable use on the new host. (Actually, I think they could've deployed it without too much pain, but whatever.) So I installed MySQL myself on a virtual machine, imported the raw tables, dumped them to a standard text sqldump, and imported them here… and once I got a few silly things about DB connection worked out, everything seems to mostly be in order again.
So, after I figure out my CD list, I guess it's back to deciding whether I want to finally do a new design…
No Comments

on And we're back!
posted January 29th, 2013 in Guitar,Music
It's that time of year again… when a couple thousand musically-inclined souls gather for the RPM Challenge and try to put together 10+ songs and/or 35+ minutes of new music. I did it in 2009, 2010, and 2011 (barely), but last year I threw in the towel halfway through the month on the grounds of being unable to actually finish anything and having very little motivation.
We'll see how it goes this year… I have two different ideas for what I'm going to do, one possibly with a group instead of solo. If I can wrangle them into it and convince them that yes, it is possible to put together an album (even if it's rough around the edges) in a month.
No Comments

on RPM Challenge
posted January 3rd, 2013 in Guitar,Music
I dropped by Guitar Center tonight and finally got a chance to try out the Peavey AT-200, which I'd first seen in demo videos from last year's Winter NAMM show. (Aside: woot, it's almost time for another Winter NAMM!) I guess they've been on the market for a while, and GC has even had some in stock near me for a month or so, but I hadn't sat down to try one yet.
The guitar was (probably intentionally) even more out of tune than the average display guitar at GC, but as advertised it popped right into tune after a single strum and pushing the volume button. I guess I should've tried comparing the sound of the guitar autotuned to the sound of it, you know, actually tuned, but it worked well enough. The sample tunings they demonstrate in the video — drop D or baritone — worked pretty well, too. And the most exciting bit to me was that it sounded good in the couple of open tunings I tried, open D and open Dm. Of course, those took a little bit of thought to figure out what to fret to get the autotune to end up where I wanted — ultimately you fret the number of half steps UP that you want the open string to be DOWN. (I guess that means if you want to tune any open string up, you have to tune everything down an appropriate amount and then capo up, which sort of defeats the purpose of the autotuning but is workable.)
And then I got to the fun (==ridiculous) things. I've always wondered about just how far you can push these tuning modelers, since they seem to usually demonstrate them at a baritone tuning at the furthest. But of course djent with 8-string guitars with a low string around F# is in right now, or if I didn't own a bass I might want to be able to play bass parts on my autotuned guitar. Unfortunately, running a regular guitar through a pitch shifter or octave pedal usually sounds nothing like a real bass, to say nothing of the fact that they can't track multiple pitches simultaneously — they're useful as an effect but you would probably never be able to actually use one as a bass replacement. I think the AT-200 would be CLOSE to being usable as a bass, although I'm not sure. I autotuned it down at least as far as a bass in drop D, and I might've gone even further than that, and it sounded more natural than a pitch pedal but probably less natural than a bass guitar. (Obviously, running it through a guitar amp put some limit on the usefulness as a bass…)
From a practical perspective, I would still rather get a James Tyler Variax, because of the wide variety of tweakable modeled instruments it comes with on top of being able to model retunings. It would also fit in quite naturally with my HD500, which last I heard supports storing the guitar configuration along with amp configuration in presets. From what I've read, technically the AT-200 supports firmware upgrades to allow it to model instruments as well, but my understanding is that they will be paid upgrade packages instead of just being a standard part of the guitar. Of course, the cheapest JTV is more than twice the cost of the AT-200, which you would probably not reach even with all of the upgrade packages; on the other hand, Line 6 has pushed out several free updates for the JTV to improve its value proposition. But playing with the AT-200 did convince me that something with this simple retuning magic is something I "need" in my creative arsenal.
No Comments

on Peavey AT-200