Welcome to UptonArt.net
posted October 27th, 2013 in Trip reports
Yesterday we took a quick (well, "quick") run up to Norway Pass at Mount Saint Helens again, this time getting there basically just in time for sunset. I guess when I went last year it was technically a three volcano trip as well — I saw a few glimpses of Rainier and got a distant peek at the peak of Mount Hood. This year the sky was much clearer and so in addition to better views of Rainier we got to see Mount Adams. There was no snow anywhere on the trail, but we did see a fair amount of frost in parts that presumably saw no sun all day. We considered spending the night somewhere relatively nearby so we could hike again today, but with rain and clouds in the forecast basically everywhere west of Cascades that seemed like a waste of time.
No Comments

on Three Volcano Day
posted October 22nd, 2013 in Trip reports
Just to clarify, it's not like I just skipped out on hiking or anything else since I got back from New Zealand. However, I have been exceedingly lazy about posting any updates. That's at least partly because most of my hikes have been revisiting places I had been before, although there are a couple of new destinations in there as well. In almost definitely not chronological order:
Rattlesnake Ledge – I think I finally took Karolina up to Rattlesnake Ledge sometime since we got back from New Zealand, on one of those days where we felt like we should get out and do something but didn't have time to take a long trip.
Annette Lake – A couple of our friends from UVA have also recently started jobs out here, and I think this was the first hike we did with them after everybody settled. One of the Annette Lake trip reports on WTA around that time had indicated that flies would be a problem when we got to the lake, and that was definitely not an understatement — our bug spray had no effect on them, although conveniently, wading into the lake a bit away from the shore basically left the flies behind. (On the other hand, we didn't have any water shoes or flip flops with us, and the rocks on the lake bed were pretty pointy.)
Source Lake – One of Karolina's friends came to visit to help us move in late July, but we had just enough time to squeeze in a short hike.
Snow Lake – I went to Snow Lake twice this year, once with Karolina and once on my own. The Cascades got a freak early snow storm around the first of October this year, so I decided it would be interesting to check out Snow Lake with a little snow. By the time I got there it had melted significantly, which was good for my ability to actually get around, but there were still a few icy patches in the deep shade.
Naches Peak – I finally managed to make it up to Mount Rainier for a sunset, taking off from work a bit early and making the two hour drive to the Naches Peak loop over near Chinook Pass. For the fact that it is relatively convenient and not a hard hike up into the wildflower meadow at sunset, I was surprised that I saw no other photographers. Well, except for maybe one guy who seemed to be in a hurry to get back down toward Tipsoo Lake.
Spray Park – We also went to Spray Park with our friends, and it was sort of a toss up compared to last year's late season trip. Last year it was a beautiful day, but it was well past wildflower season; this year the park was carpeted in wildflowers (although I heard somebody say it was technically past peak), and we got to see two bears (from a loooong distance), but the clouds set in sometime around the time we got to the parking lot and so we couldn't actually see the peak.
Chain Lakes – In my quest to tick off all five volcanoes in Washington, we finally made a run up to Mount Baker and the Chain Lakes. This was another case of the clouds cheating us: the forecast was for sunny skies, and we could see the mountain pretty well as we drove in, but as we started our hike a bunch of clouds blew in and completely hid the mountain for the duration of our visit. There are three places you can park to join the trail, and some rangers told us the main difference was when you had to do the unpleasant steep climb (assuming you were doing the whole loop). We ended up parking at that visitor center, which let us get the steep mile of trail along the road out of the way at the front. The lakes were still pretty and I would like to go back sometime when it is sunnier; our consolation prize was basically all of the wild blueberries we could eat.
Comet Falls – Comet Falls was another hike where we wanted to get out and do something while the Mount Rainier area was still hikable, even if the weather was less than pleasant. We unfortunately got stuck in WA State Fair traffic on the way over, which left us with even less time than we would have liked to finish the trail, but we got back to our car just around sunset. Comet Falls is pretty huge, and we got lucky enough to get there just before the pouring rain started.
Ingalls Way – One of the things I have wanted to see since hearing about them are the alpine larch, a coniferous tree that is not an evergreen but whose needles turn yellow and drop every fall. Most of the places I have heard of that you can see them are far away in the North Cascades, require a long hike/multi day trip that needs a permit (the Enchantments), or both, but this year I heard about Ingalls Lake. Ingalls Lake is also in the Alpine Lakes Wilderness Area, about 2000 ft higher than Snow Lake. That area also got pounded with snow early in the month; some trip reports remarked that there were 3-4 feet of snow along the trail, which kept me out for a while, and then I was sick and missed what was probably the best weekend to go. However, by this past weekend, a lot of the snow had cleared back off the trail, and the forecast was still for sun and temperatures in the upper 50s-mid 60s. Still, in trying to keep with being prepared for changing conditions in the mountains, we had brought entirely too many layers. We left Bellevue a bit too late to be able to make it all the way to the lake, given that we did still have to traverse ice and snow to get there, but at least we got to hang out a bit in/above Headlight Creek Basin and got to see the larch. Unfortunately, the larch were past peak at this point and had passed from yellow on to reddish brown. But now we know how to get there and to find time to go next October!
No Comments

on Ingalls Way, plus more catch up
posted October 1st, 2013 in Trip reports
As I mentioned in the last post, back in July I went on vacation to New Zealand. I finally finished putting together the trip blog for that, with maps, pictures, and a rough narrative. Rather than stitching it into this blog directly, I put it in its own separate directory and template: New Zealand trip blog here!
No Comments

on New Zealand Trip Blog
posted July 14th, 2013 in Trip reports
I just got back from a vacation to New Zealand, which I will eventually post an entirely too long blog about. But in the meantime, to catch up, I suppose I should write about two previous trips that I have been lazy about writing up:
John Wayne Trail, parts 3 and 4
I had decided to make another trip along the John Wayne Trail the day after my Carbon River Road ride, and thought I would save some time by starting a little further up the trail. The last time I tried this, I was going to park just off the east end of exit 38 on I-90 and ride up the Garcia Road, but I overdid the ride and ended up not even being able to make it up to the trail. And, as I would eventually find out, the Garcia Road is actually even steeper than I realized, so I probably would not have made it up even if I hadn't made myself sick by riding too hard at the beginning. Instead, I parked across from a trailhead that is used by climbers going to the Substation Cliff and Deception Crags area and carried the bike up to the trail. And this was some pretty serious carrying — the trail is definitely not made for riding, basically just winding through trees and in some places very tight with maybe 9 or 10 inch rock stairs. Unfortunately, and probably as a result of the previous day's ride and the climb, my legs were too tired and I didn't actually make it very far down the trail. I did, however, discover that you could just park at the intersection of the John Wayne Trail and the Garcia Road. And I rode back down the Garcia Road, which is how I discovered how steep it is at the top — enough that I could clamp down both the front and rear brakes and still actually coast a little just from gravity until I put my feet down to drag.
A week or so later, I went up again and parked at the Garcia Road crossing. I met a large group of people apparently doing the same thing, or maybe just dropping their bikes off from a trailer and then parking elsewhere, but I think they must have ridden west because I never saw them again. They started after me and it sounded like they had a fixed ride plan, but they also probably rode faster than me and so if they had come east I feel sure they would have overtaken me. A sign near the crossing noted that it was just over 10 miles to the entrance of the Snoqualmie Tunnel. Other than that, I had no real idea of where I was or how far I had gone until I came across the intersection of the John Wayne Trail and the Annette Lake (hiking) trail…which also pointed out that the Snoqualmie Tunnel was only 1.5 miles away. At that point, I figured I had to make the full distance. I didn't ride through the tunnel, since I only had a head lamp with me and also didn't want to add the extra 2.5 miles to the return trip, but I did ride slightly into the entrance just to say I had. I don't recall how long the trip took, but the approximately 21 miles is definitely the longest ride I've made. Now to do the whole thing in one day? The shuttle that used to pick up at Rattlesnake Lake and drop off at the other side of the tunnel shut down due to changes in WA State Park Concessions law, so I guess I will have to find some other way if I want to just do the whole downhill ride (or do a full 50 mile day, which sounds intense).
Dirty Harry's Balcony
Finally, success at finding Dirty Harry's Balcony! The week after the first trip, I made a second trip actually going up the correct trail but it seems I never wrote about it. About halfway up the trail became completely snow covered, although there were bare patches further up where there was enough of a break in the trees for the sun to come through steadily. I remembered reading something about a turn but never found anything that looked right, so after a while I gave up and turned around. On my way down, somebody asked me how far it was to the can, and I said, "Oh, is that what I was looking for?" I had seen it, but all of the footprints only went in one direction so I followed them. The person who asked offered to let me join his group if I wanted to turn around and try again, but I decided I had gotten my fill in for the day.
I looked it up again in a hiking guidebook afterward and confirmed that the fork in the trail is at an old rusty canister, and that while the "official" trail/old logging road goes to the left, to get to the balcony you should turn right. So the week before we left for New Zealand we took another go at it. Now that the snow is all melted, the trail off to the right of the canister is pretty obvious, although even if I had found it I don't think I would have wanted to attempt it in the snow. As you get close to the balcony, the bare trail still gets a little touch and go to find and has some really steep (or just tall) steps. But when we finally made it out, it was quite a view: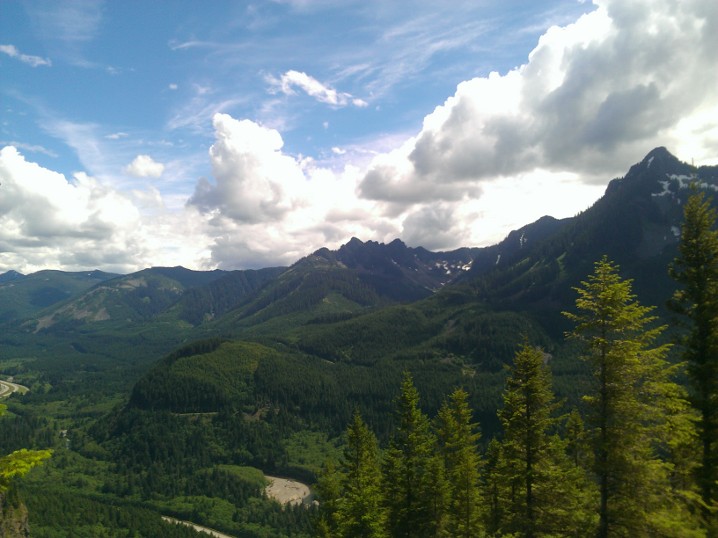 No Comments

on Travel catch up
posted June 15th, 2013 in Trip reports
I had been trying to find a good weekend to go ride around the Carbon River Road down in Mount Rainier National Park. The road status page showed that it was open to the ranger station (actually a little bit further than that), and then closed past there to vehicles but still open to bike and pedestrian traffic. Since this was a park road, I figured it was just like most of their other more backcountry roads where it just doesn't get plowed and so they wait until it's fully melted before declaring it safe.
It turns out the actual reason it is closed to vehicular traffic is due to repeated washouts, most recently in 2006, and the park service just decided to turn it into a full-time pedestrian and bike road. I encountered some park service employees moving equipment around to repair the road and work on it a bit, presumably to make it more passable for bikes. The quality of the road ranges from paved at the entrance, to gravel, to huge stones (where in places I just had to get off and push) to dirt and mud. With the exception of the bumps, it was mostly flat, which was good for me — I'm still not very good at muscling my way up hills, although of course I can always just get off and push the bike up the same as I would over the extra bumpy sections. Even so, my legs were pretty tired by the time I made the 5 miles to the end of the road.
The road ends at Ipsut Creek Campground, which also provides one of the handful of trailheads along the road. In this case, it connects to the Wonderland Trail, which is about a 90 mile trail around the mountain. It also provides a connection to the Carbon Glacier, which I think a sign said is the lowest-elevation glacier in the lower 48 and is about 3.5 miles from the campground. Maybe some other day, when my legs can deal with the combined bike and hike.
On the way back I hit another one of the trails out to Chenius Falls, a very short trek complicated only by crossing the Carbon River on fairly simple log bridges. It seems the river floods regularly, hence the washouts on the road, and takes the Chenius Falls trail bridges with it, so it's hit or miss whether you'll be able to access the falls on any given trip. The falls were pretty, but don't really photograph well (well, maybe if you're willing to splash around into the creek that they feed):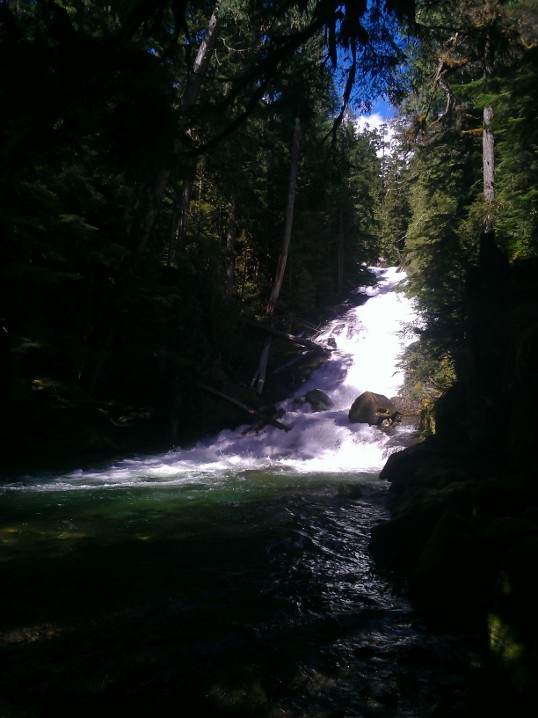 One nice thing about the trail is since they know people will be biking into the trailheads they have also installed bike racks at all of them. The trip from the falls back to the car was basically all downhill, with the exception of a few rolling bumps, so it was a quick and fun trip back.
No Comments

on Carbon River Road and Chenius Falls